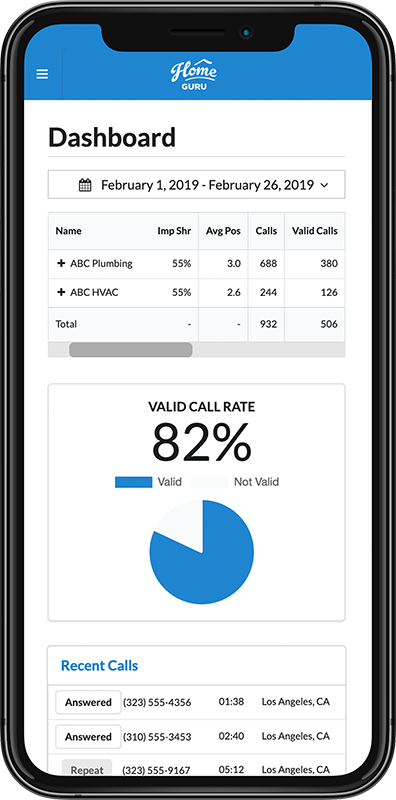 HomeGuru Remodeling Leads - Qualified Leads For Home Remodeling Companies
Only Pay For Valid Leads
Easy Setup, No Commitments
Customers Call You Directly
Limited Time Only! $500 $0 Setup Fee
Remodeling Leads Generation Services
Homeowners and businesses search the web for various remodeling services. Believe it or not, Americans invest $350 billion in remodeling projects annually. That makes it an industry of high demand all year long.
With many services offered, getting customers may seem easy. Remodeling leads are also available on the Internet. Yet, that does not mean generating leads is a piece of cake.
Without an effective lead generation plan, thriving in the remodeling industry is difficult. Start-ups and small businesses are probably the most challenged.
So, better let a reputable service provider do the lead generation for you.
Why Should Remodeling Contractors Outsource Lead Generation?
A successful marketing campaign comes with effective lead generation. The only problem is that the process itself is time-consuming. Besides, it can be challenging for an in-house team without expert help.
Saying such, these are the reasons to outsource remodeling leads:
Get a high return on investment (ROI)
Increase brand awareness among users
Improve inbound lead generating campaigns
Focus on the business as the outsourced team does the lead generation tasks
Lower labor and overhead costs
Seven Benefits of Outsourcing Lead Generation for Remodeling Contractors
Gain access to the latest lead generation methods and technologies
Spend less on or cut the cost of lead gen infrastructure building
Allow specialists to handle the job
Reduce staffing cost
Time-saving
Reduce turnover rate
Learn expert knowledge for marketing and sales improvements
How Can HomeGuru Help Remodeling Contractors Generate Leads?
We are not into quantity but quality. Our organization wants our clients to talk with interested customers near their area. We ensure this promise by deploying the following strategies:
Usage of the proper lead generation tools
We are systematic in organizing and storing leads. Such becomes possible with the use of modern lead generation software. It includes our custom landing pages platform and customer verification tool. Unlike generic lead gen forms, we drive calls directly to your messaging. We ensure the validity of calls through our monitoring tool.
Keeping the messaging consistent and delivering the promise
A crucial element of success in the remodeling industry is consistency. Our organization will keep your message consistent with what you promised.
We will design your landing pages to let the people get the point easy. Your call to action and headline will also catch the user's attention. Moreover, keep the conversion pages clean and concise.
Compliment lead gen plans to present online advertising model
We leverage our model with your existing digital marketing campaigns. Maximize your PPC or SEO with our lead gen strategies. In doing this, you can reach more people for better chances of increasing leads and sales.
Why Hire HomeGuru?
Generating leads becomes manageable with the help of professionals. Our dedicated staffers will get the job done whatever remodeling firm it is. We capture leads worth the cost you invested. As your online presence becomes more visible, it is also our success. Partnering with us is a win-win situation to grow together in serving consumers.
Do not forget to call us at (888) 437-8049 or email us at hello@homeguru.com. You may also visit https://www.homeguru.com/ for more info.
The HomeGuru Difference
Choose your own lead price
You have control over your lead price. We'll let you know how many leads to expect at any given price.
Pay only for valid leads
We review each incoming call and webform and bill you only for real verified leads, not for clicks.
Optimized for conversions
Our custom-built software automatically optimizes your account daily, bringing higher quality leads at the lowest possible price.
Leads delivered only to you
No generic lead-gen forms or leads sent to four different companies. Leads are yours alone.
Sign up is easy and there's no commitment. Try HomeGuru Leads today.
Getting Started
1
Sign Up
It only takes a few minutes, click here to get started.
2
Review
In about a day we'll send your landing page for review.
3
Get Leads
New customers call you directly, you pay only for valid leads.