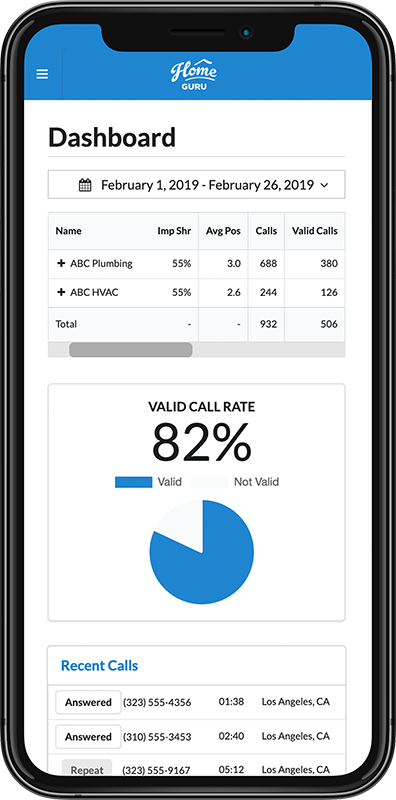 Exclusive Leads For Plumbers and Home Service Providers
Pay Only For Valid Leads
5-Minute Setup Process
Pause Any Time, No Commitment
Limited Time Only! $500 $0 Setup Fee
Plumbing Leads Generation Services
Generating leads is a vital aspect of online marketing. No matter what the business is, without it, topping the competition is close to impossible. Even plumbing services must have well-established lead generation plans.
Traditionally, plumbers get a job from referrals and relationships. But for how long will these connections last?
Moreover, 90 percent of consumers searched online for local businesses per a 2019 study. Thriving in the online market is challenging, with new competitors coming in. Hence, how can small plumbing businesses drive leads and make their presence on the web?
There are many ways, and one of them is through carefully crafted landing pages.
What are Landing Pages?
Landing pages are standalone pages that serve specific purposes. It is one of the interrelated efforts used nowadays to optimize websites.
In digital advertising, it is a follow-up page for your plumbing site content's promise. Online businesses use it to convert consumers to customers. On this page, you offer a reward in exchange for information from visitors.
Trades could be an electronic book, free trial, or contest entry. In return, the users provide contact details, for example. Saying such, high-quality landing pages can convince people to complete the submission form. In HomeGuru's case, we expose your brand name to messaging. Hence, expect direct calls from new customers.
Qualities of Good Landing Pages for Plumbing Services
Like pay-per-click (PPC) campaigns and keyword targeting, landing pages also matter. If the users do not find the page interesting, they will leave immediately.
Given such circumstances, landing pages must have these four likely characteristics:
1. Call to Action
CTA is a content produced by marketers to persuade the user into taking action. Usual catchy phrases used are "Buy Now", "Click to Learn More", and "Join in While You Still Can".
2. Measurable Conversion
The landing page must be specific and direct about what to offer.
3. Site Speed
Landing pages should be fast enough to load to keep the internet user's attention. Slow loading pages will only encourage the busy individual to exit at no time.
4. Visual Appeal
Increasing online leads is not only scientific but also artistic. Landing pages should be visually engaging and appealing to the eyes.
How Can HomeGuru Generate Leads Through Their Landing Pages?
Ensure Purpose is Clear
We create landing pages that can convert customers. Many people tend to forget the purpose of these pages. So, keeping their focus on the page's primary goal is our mission. In this way, they can remember and understand what you want to convey.
Create Compelling Headlines
It is not advisable to use the name of the service itself as a landing page's headline. Users have already clicked the page to invest in your plumbing services.
In contrast, we craft engaging headlines to capture their interest. A compelling headline is a huge advantage in today's online platforms. This is because convinced users will also read your call to action (CTA).
Insert Convincing Calls to Action
Your call to action (CTA) should also be compelling as your headline. Let us do the job of successfully converting visitors with CTA. Our personalized CTAs make it easier for users to get the point. Such is more effective than using the clichés "Call today!" or "Contact us now!".
Minimalist Design for Landing Pages
Adding photos and text is sure tempting. But plumbing services are not art galleries to appeal to users' eyes. Instead, help them with their problems.
As people need an immediate response, we design pages to accommodate them. We reduce visual and textual clutter for cleanliness and conciseness. As a result, the most crucial elements stand out, such as the company logo and call to action.
Making NAP Visible
Your landing pages must include your business' name, address, and phone number (NAP). The following reasons explain why:
NAP listings signal search engines that your plumbing business is real. Expect us to deliver 100 percent compatibility. It does not matter if it is a website, social media platform, or landing page. We get the work done.
Not all visitors clicking your landing page will spend money as they do. Your NAP will serve as their contact link to get in touch with you soon.
Optimize for Mobile Users
More people use their phones to transact with plumbing and other home services. Our team will optimize your landing pages for mobile users. Expect your page to load fast, and CTA does not need long scrolling to see.
Why Should Plumbing Services Choose HomeGuru for Their Landing Pages?
Landing pages are beneficial to online businesses, even plumbing services. If done right, these pages are the key to lead generation. These leads let plumbers reach new clients and past customers. With more genuine leads, an increase in sales follows.
Creating landing pages takes skills and knowledge. Hence, hire us for quality products and services worth your investment.
Our 10-year experience taught us to serve businesses of the highest quality. Working with clients from different industries makes us reliable and trustworthy. Your growth is also our success. You may email us at hello@homeguru.com or visit our website for more info.
The HomeGuru Difference
Choose your own lead price
You have control over your lead price. We'll let you know how many leads to expect at any given price.
Pay only for valid leads
We review each incoming call and webform and bill you only for real verified leads, not for clicks.
Optimized for conversions
Our custom-built software automatically optimizes your account daily, bringing higher quality leads at the lowest possible price.
Leads delivered only to you
No generic lead-gen forms or leads sent to four different companies. Leads are yours alone.
Sign up is easy and there's no commitment. Try HomeGuru Leads today.
Getting Started
1
Sign Up
It only takes a few minutes, click here to get started.
2
Review
In about a day we'll send your landing page for review.
3
Get Leads
New customers call you directly, you pay only for valid leads.