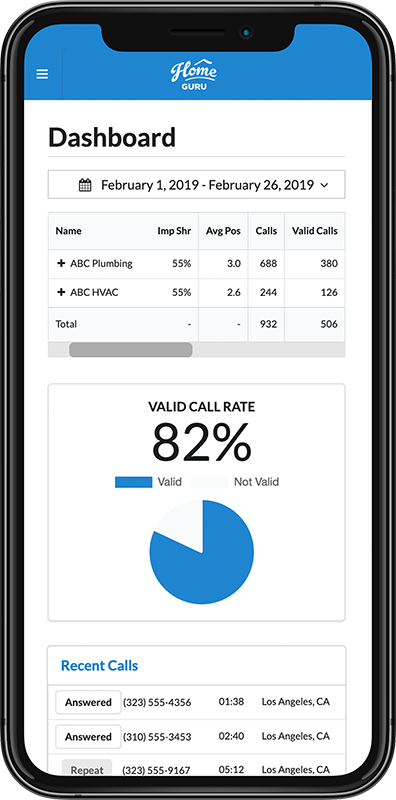 HomeGuru Exclusive Leads For Home Improvement Professionals
Set Your Own Lead Price
Only Pay For Each Valid Lead You Receive
No Commitments, Pause Or Cancel Any Time
Limited Time Only! $500 $0 Setup Fee
Home Improvement Leads Generation Services
Today's contractors are outsourcing their lead generation to third-party services providers. Generating leads is valuable to a home improvement company's success. With customers, your business can keep its operations. Thus, attracting more clients to call you is imperative for growth.
But saying such is easier said than done. The online market landscape has become more competitive. Start-ups, small businesses, or anyone can compete for higher search rankings.
Standing out seems close to impossible. Hence, hiring a lead generation company can be the best solution.
How Can HomeGuru Generate Home Improvement Leads?
We offer a wholesome lead generation package. From building your personalized website to site optimization, we got you covered.
To increase brand awareness and drive site traffic, we do content syndication. We push your content to different channels for more users to find you.
We also leverage emailing and cold calling to reach a large audience. Not simply people who browse the web but especially those who need your services. We are into quality, not quantity.
Our inbound programs also nurture the leads obtained. Such is crucial to keep track of the sales funnel down to the buying stages.
Moreover, our carefully crafted landing pages will convert potential customers. We design pages to accommodate consumers. Our team will make your call to action and the company logo stand out. In these ways, consumers will remember you as a thoughtful contractor.
Why Trust HomeGuru for Home Improvement Leads?
Generating leads for home improvement companies is difficult in the digital age. So, we equipped ourselves with the latest software to bring qualified leads. Using technology allows us to check if a lead is valid. In this way, your payment earns a good return on investment (ROI).
Our organization also listens carefully to what our clients want to achieve. We walk the talk to make your home improvement services in demand.
Moreover, we are not into quantity as we want the best for you. Instead of buying data, outsource your lead generation with us. Expect us to be transparent and fair in increasing your leads.
Benefits of Hiring HomeGuru for Home Improvement Leads
Gain control of your short or long-term campaigns.
Access more potential clients as the lead gen company has contact lists. It is not easy to build such a network in a short time, especially for independent businesses.
Get your services advertised on various media platforms. With more channels used, your business can reach a mass audience.
Provide data collection, statistics tracking, and comprehensive reports
Cost-effective and time-saving
Get professional marketing and sales guidance.
Why Hire HomeGuru?
Home improvement is a competitive industry. That is why businesses need a helping hand to generate new leads.
We ensure that our clients get quality, not quantity, leads. Our 10 years of service taught us to commit to transparency and fairness. Serving contractors in their best interest is our mission. We want them to receive calls from people that need their services.
Increase your leads today by calling (888) 437-8049. Interested customers can also email us at hello@homeguru.com or visit our website.
The HomeGuru Difference
Choose your own lead price
You have control over your lead price. We'll let you know how many leads to expect at any given price.
Pay only for valid leads
We review each incoming call and webform and bill you only for real verified leads, not for clicks.
Optimized for conversions
Our custom-built software automatically optimizes your account daily, bringing higher quality leads at the lowest possible price.
Leads delivered only to you
No generic lead-gen forms or leads sent to four different companies. Leads are yours alone.
Sign up is easy and there's no commitment. Try HomeGuru Leads today.
Getting Started
1
Sign Up
It only takes a few minutes, click here to get started.
2
Review
In about a day we'll send your landing page for review.
3
Get Leads
New customers call you directly, you pay only for valid leads.