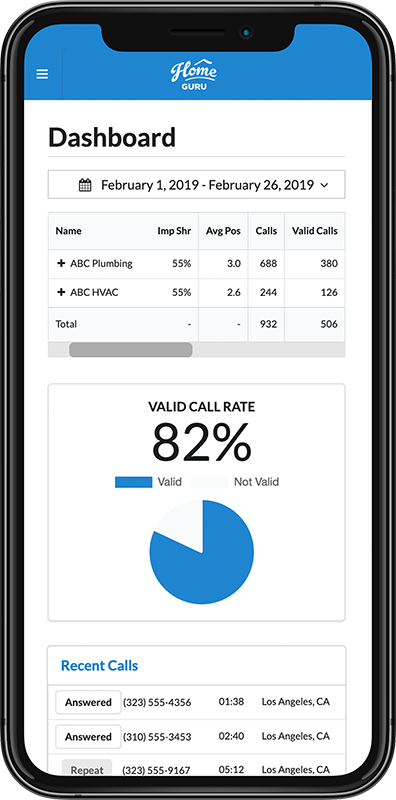 HomeGuru™ Electrician Leads - Exclusive Leads for Electricians
Pay Only For Valid Leads
Sign Up In 5 Minutes
No Commitments, No Fees
Pause or Cancel Anytime
Electrician Leads Generation Services
The market can be fiercely competitive for electrical work. It's no longer enough to hang up your shingle, hoping that the phone will ring. You can ensure that your prospects find you online as more people search the Internet for local businesses such as an electrician.
Online lead generation services are available for electricians. This will help reach potential clients and let you focus on serving your clients. Online marketing is a standard method used by some vendors to drive traffic and clients to their websites. Also, contractors who sign up for their services (which tend to be pay-per-lead) will receive leads from the sites. Moreover, companies also offer complete lead generation services, such as SEO, and online advertising.
Electricians can reach more people with Internet marketing unlike the traditional marketing strategies. You could waste time and money trying to attract leads that aren't interested. Lead generation for electricians should be centered on digital channels. These channels like search, email, and social can help you get qualified leads for your business and return on investment.
Understanding how each lead generation service works is crucial to help you choose the best one for your business. To ensure that your marketing budget maximizes its ROI, track the results.
Landing pages can be a boon for online businesses and even for electricians. These landing pages are crucial for lead generation if done well. The art of creating landing pages requires knowledge and skills. You can trust us to provide high-quality services and products that are well worth your investment.
With years of experience, our work with clients from all industries is reliable and trustworthy. Your growth is our success. Email us at hello@homeguru.com or visit our site for additional information. Let's create leads together!
The HomeGuru Difference
Choose your own lead price
You have control over your lead price. We'll let you know how many leads to expect at any given price.
Pay only for valid leads
We review each incoming call and webform and bill you only for real verified leads, not for clicks.
Optimized for conversions
Our custom-built software automatically optimizes your account daily, bringing higher quality leads at the lowest possible price.
Leads delivered only to you
No generic lead-gen forms or leads sent to four different companies. Leads are yours alone.
Sign up is easy and there's no commitment. Try HomeGuru Leads today.
Getting Started
1
Sign Up
It only takes a few minutes, click here to get started.
2
Review
In about a day we'll send your landing page for review.
3
Get Leads
New customers call you directly, you pay only for valid leads.